FLOATING SOUND GALLERY
Vienna
Beatriz Ferreyra
Composer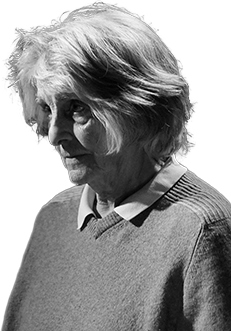 Beatriz Ferreyra

(c) aublur


Beatriz Ferreyra – Worked at O.R.T.F. (French National Television), as a member of the Group of Musical Researches (G.R.M), under the leadership of Pierre Schaeffer (1963-70), contributed to Pierre Schaeffer's book «Traité des Objets Musicaux» (1966), participated to the records realization from «Solfège de l'Objet Sonore» by Pierre Schaeffer (1967). Since 1970 she is a free composer. Since 1975, Ferreyra is a member of the «Collège des Compositeurs» created by the G.M.E.B. Since 1967 she had commissions for concerts, festivals, film's and TV music, theatre, video, writes articles and gives seminaries and lectures. In 2014, the O.I.M. CIME/IMC UNESCO grant her the title of Honorable Member of the Organisation.


Senderos del olvido (The forgetfulness paths), 14'09″ (2016)
State commission for INA-GRM 2016.

At the beginning, this music was inspired by astrophysics wonders and by the mystery of the "before big Bang" and its first moments of existence. But the time going on, the composition transformed itself in a strange "working along".


Echos, 8'30'' (1978)
With the voice and In memoriam Mercedes Cornu.

This work has been composed with four Latin-American's popular songs: 2 Argentines and 2 Brazilians, which were sung «a cappella» by Mercedes Cornu. These songs have been break down in short and long sounds, syllables, breathings, coughs, etc. The composer only used techniques of tape cutting, mixing and manual shakes on these different vocal elements in order to keep the original timbre and quality of Mercedes's voice.


L'autre rive (The other shore), 17'20'' (2007)
State Commission for IMEB (Bourges).

Inspired by the Bardo Thodol (Tibetan Book of the Dead) this piece have been composed with percussions and some electroacoustic sounds. I thank very much the percussionist Richard Aratian for his inexhaustible patience, his imagination and his sense of humour during his recordings.


Médisances, 7' (1968-69)
This electroacoustic piece for 4 channels was produced by manipulating such items as orchestral instruments, a mouth bow, breath and some unexpected technical defects.
"Slander" is not meant to be of a descriptive nature and any interpretation of the music along those lines would be a complete misconception.
Honi soit qui mal y pense!
B. F.